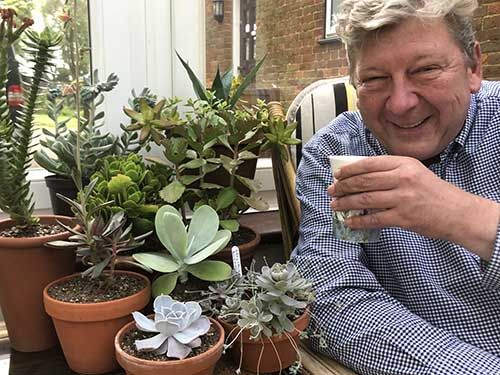 ABOUT CLOUDS HILL SUCCULENTS
WE ARE A SMALL BUT EXPERT SUCCULENT NURSERY BASED IN THE SURREY HILLS
Succulents came into my life a few years ago on a hot summer evening. Yet another hosepipe ban had just been announced. Exasperated, I complained to a South African friend that my patio plants were doomed. "Nothing to worry about…" he said, "just replant with succulents".
Succulents were completely new to me those days and I wasn't sure if I could handle 'exotic' plants like that. However, I took a deep breath and chose my first succulents.
Replacing ordinary bedding plants with succulents in my patio planters made all the difference – hot and dry weather makes them flourish – they need minimal watering – and offer a vast variety of different, drought resistant plants to choose from!
Ever since that 'milestone' moment in my gardening life, my greenhouse has been bursting with exquisite succulents. Their colours, shapes and their ability to flourish with a minimum amount of water and maintenance is mesmerizing.
I would love to take you too on the journey to fall in love with succulents.
In order to reduce my carbon footprint I decided to refrain from adding printed care instructions to parcels. For every plant I sell there is detailed information and care instructions available on the advert.
Every little printed flyer NOT send saves a tree!
That doesn't mean you are left to your own with your plant after your purchase. I take it as privilege to answer all questions you may have.
Yours sincerely,
Ralph